If you're looking for some inspiration for Create50's Twisted Volume 2, you could do a lot worse than check out these super creepy story starters  …
1) SUPER CREEPY WRITING DOLL!
The doll is an Automaton, one of three built by Swiss watchmaker Pierre Jaquet Droz. Called The Draughtsman, the doll is a boy who draws four different images and blows on his pencil (and no, that's not a euphemism). It's the eyes! The eyes that seemingly follow you wherever you go! Shudder! And YARGH.
Creepiness aside – the Automaton is an absolutely amazing creation—especially when you consider it was made in 1774. That's 242 years ago!
According to ThisIsColossal, The Writer is considered by many as the earliest example of a computer. All of its mechanical workings had to be miniaturised and they sit completely inside the doll's body – all 60,000 of them. Wow!
He's fully programmable and writes up to 40 letters, using ink and a goose feather. When he inks up the feather, he even gives his wrist a little shake to ensure there's no spillages.
BUT HE STILL CREEPS US RIGHT OUT! Watch him writing, below …
EVEN MORE SUPER CREEPY STORY STARTERS … 
If a doll that can write isn't enough for you to get YOUR OWN horror writing muscle moving, we rounded up some even more vile stuff from the interwebz … Read on if you DARE!
2) BOOKS WRAPPED IN HUMAN SKIN!
READ: The Strange Case Of The Woman Whose Skin Was Made Into A Book. When a poor Irish widow died in 1869 at the age of 28, she probably never imagined what would happen to her flesh.
3) NIGHTMARISH MOVING SCULPTURES!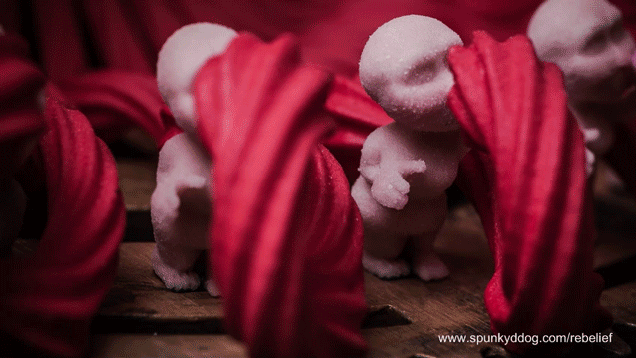 READ: These Kinetic Sculptures Are Like Beautiful Nightmares. The film is comprised of nine 3D-printed kinetic sculptures and is described by its filmmaker as "a personal recounting of memories that repeatedly haunted me growing up".
4) SPOOKY KIDS AND FREAKY PHOTOS!
READ: Horror Photographer Uses His 5 Daughters In Spooky Photo Series. One Kansas photographer loves scaring people with his spooky photos – and now he has his kids in on the gag, too.
5) MOST HORRIFYING FOR LAST?!?!
READ: Spider Burrows Into Man's Appendix Scar And Up Into His Sternum. Yes, you read that right. Luckily for us (here in the UK, at least) it wasn't a common house spider. HOLY CRAPBALLS!!!
Know any more super creepy links? Share in the comments!