Right now, I'm in pre-production for my next short Rink. What I am trying to do with that film is portray the very human rite of passage of showing your first crush you like them. The main character just happens to be gay.
Doing the final rewrites for the script, it did prompt me to look at the representations I like of LGBT characters to see what I think worked:
1. Beautiful Thing
Jonathan Harvey's Beautiful Thing is one of my all time favourite films. Forget whether it is LGBT or not, it's funny, poignant, highly quotable and very entertaining. It even manages to make Thamesmead look beautiful. It's not council estate misery – it's council estate pride. What I love about it is the fact that the two boys are well drawn individuals – complex and with their own set of problems but complex in their own right. READ A CASE STUDY OF THIS MOVIE.
2. Trevor (Short Film)
Trevor is an amazing Oscar winning short that I am always highly inspired by. Why? Well, it's one of the few shorts I know that actually spawned a movement. The story is a comedy drama about a young boy – slightly obsessed with Diana Ross – who is coming to terms with his sexuality. When he is rejected and made to feel "wrong" about who he is, he tries to commit suicide. Sounds cheery, right? Actually it is. He doesn't die and comes home triumphantly to "I'm coming out" – who wouldn't want that!? The tone is light, light, light, light, PITCH BLACK, light. And it works beautifully. The movement spawned by the film is called the Trevor project and helps prevent LGBT teen suicide. Check it and the film out!
3. Blue is the Warmest Colour
Now I struggled with whether I should put this in or not. Why? Because IMHO it needs to be edited by about 45 minutes. And frankly the male gaze, bottom obsessed sex scenes got up my nostril. However, what it does show is a very real portrayal of first, obsessive love. That, to me, is why it is on the list. It wraps a very human moment of first love and break up and frames it in the LGBT world. It invites people to see their own experience in the two lovers which is very powerful.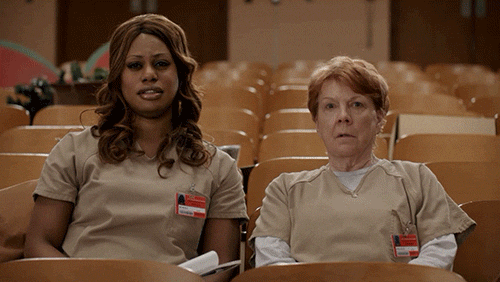 4. Orange Is The New Black
I must admit I have kind of lost the thread of this post season two but the first two seasons I loved. The fact that the majority of the characters are female and all gorgeously differentiated is ACE. Cherry on the cake for me is that there are several different representations of LGBT women – different colours, different classes, different outer gender representation. This is important because it does begin to show that the world that there are many different types of gay women – not just the tired old tropes that are hauled out from ACME characters. MORE: 3 Ways To Write A Trans Character
5. Torchwood/Doctor Who
I really struggled with my last choice and have about a million also rans – all which I'm sure you can remind me off below, but I think a prize does need to go to the team at Torchwood and Doctor Who. They have consistently ensuring that gay characters were present, complex and still badasses. They weren't there for show. They were there to do. Oh and they happened to be gay. I'm pretty sure Captain Jack is the closest we have ever had to a gay superhero.
CONCLUDING:
I think being gay is perhaps the 100th most interesting thing about me. I'm pretty sure that should be the case for most "characters". I do think things are getting better with interesting characters – who just happen to be gay – popping up in primetime like London Spy and The Night Manager without it being their defining feature … Just like my protagonist in RINK!
——————————————-
BIO: Gail Hackston (@ghackston on Twitter) is a writer/director. She is currently in pre-production for her second short film RINK, which is about a young tomboy who inadvertently flirts with another girl at an ice-rink. To find out more about the project and get involved, CHECK IT OUT, HERE and LIKE Rink on Facebook, HERE.